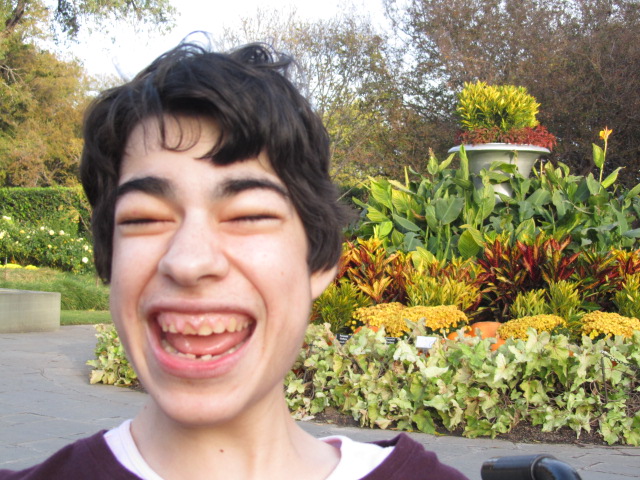 I pray this picture brings you as much joy as it does me.  It was take a few years ago at the Dallas Arboretum, which I highly recommend visiting before pumpkin season is over.  This is my sister Holly and she has cerebral palsy.  Although it takes a village to care for someone with a disability, I can truly say that she is a blessing in disguise.
She has made me a more compassionate, patient, and unselfish human being.  She has shown me what love really is, not the kind of love you feel when things are going right, but the love you feel when its hard to give up your life to care for someone else.  She has shown me what its like to love everyone regardless of what they have to offer, she has truly never met a stranger.  Holly has shaped me in more ways than I can express and in ways I'm sure I may never even know.  She is an angel as are so many of children and adults like her to their families.
Holly is the reason I would like you to removed the word RETARDED from your vocabulary.  It is very hurtful when I hear someone say this and they are being vulgar or using it in a demeaning way.  I try to have grace because I know the majority of the time they don't mean it that way, but it still hurts.
When I worked at the Down Syndrome Partnership, I learned a lot about people first language.  I have to admit I was still saying the words, "disabled person".  However the correct way to speak about a person with disabilities is to say, "child/adult with a disability, or child/adult with Down Syndrome, child/adult who has cerebral palsy."  The incorrect ways are, "mentally retarded, mentally challenged, retarded, mentally off, handicap, slow, etc."
I want to thank you for reading this post, and for wanting to learn how to respect and honor those with disabilities and also their loved ones.  I pray that as you take this word out of your vocabulary that you are blessed as well.  My hope is you will also share this with someone else, because together we can bring so much awareness and hope for these beautiful angels.
~Happy Growing My Friends!